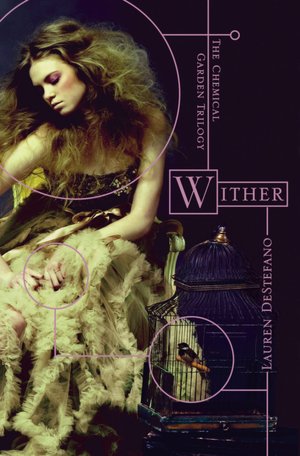 Publisher:
Simon & Schuster Books For Young Readers
Publication date:
3/22/2011
By age sixteen, Rhine Ellery has four years left to live. A botched effort to create a perfect race has left all males born with a lifespan of 25 years, and females a lifespan of 20 years--leaving the world in a state of panic. Geneticists seek a miracle antidote to restore the human race, desperate orphans crowd the population, crime and poverty have skyrocketed, and young girls are being kidnapped and sold as polygamous brides to bear more children.
When Rhine is sold as a bride, she vows to do all she can to escape. Yet her husband, Linden, is hopelessly in love with her, and Rhine can't bring herself to hate him as much as she'd like to. He opens her to a magical world of wealth and illusion she never thought existed, and it almost makes it possible to ignore the clock ticking away her short life. But Rhine quickly learns that not everything in her new husband's strange world is what it seems. Her father-in-law, an eccentric doctor bent on finding the antidote, is hoarding corpses in the basement; her fellow sister wives are to be trusted one day and feared the next; and Rhine has no way to communicate to her twin brother that she is safe and alive.
Together with one of Linden's servants, Gabriel, Rhine attempts to escape just before her seventeenth birthday. But in a world that continues to spiral into anarchy, is there any hope for freedom?
I am giving away a Hardback Copy of Wither by Lauren DeStefano. Enter using the Rafflecopter Form below.
Giveaway Info and Rules:
Must be 13 years or older.
***You don't have to be a follower, but following and doing the extra entries is always appreciated. =]
***US Only Giveaway
Ends on 1/24/12 at Midnight.
Winner has 48 hours to respond to prize notification email. If winner fails to respond, a new winner will be selected.
Winner will be selected by
random.org
.
ONE entry per person. If you enter it a second time by accident that is understandable. But if there are more entries then you will be disqualified.
I am not responsible for loss or damage of prize while in transit.
Good Luck!!!
a Rafflecopter giveaway
Thanks for Visiting and Happy Reading