Hi guys,
This book was my first ever verse book. And can I just say why haven't I heard of verse books til I started blogging. They are so good and awesome reads. I will definitely read more in the future. =]
Synopsis: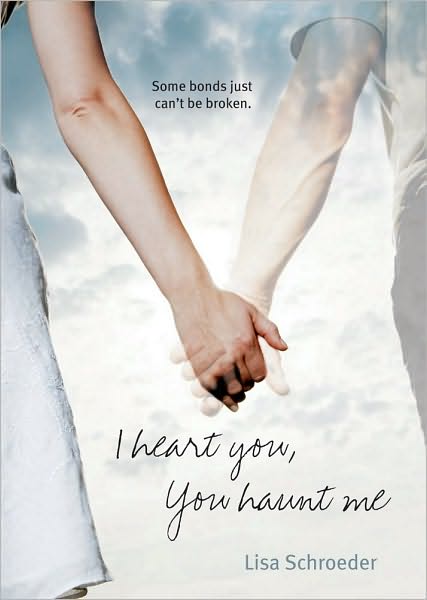 Girl meets boy.

Girl loses boy.

Girl gets boy back...

...sort of.

Ava can't see him or touch him, unless she's dreaming. She can't hear his voice, except for the faint whispers in her mind. Most would think she's crazy, but she knows he's here.

Jackson. The boy Ava thought she'd spend the rest of her life with. He's back from the dead, as proof that love truly knows no bounds
This book had all the right elements to it. This is my first ever verse book like I said above and I absolutely loved it. I will definately be reading more in the future. This book had paranormal in it with the the main characters boyfriend becoming a ghost. This book was so simple yet had everything in it to make it a good little perfect book. I Heart You, You Haunt me was such a moving book with such a great message. The message that you should and have to move on when you experience loss, grief and guilt from that loss. I definitely suggest you read this book. It is that good. Lisa Schroeder is a really good writer and I will be finding the time to read all of her other books, especially her new one that just came out called The Day Before. I of course rate this book 5 out of 5 stars. This book really got to me in a way that I can't describe and I really don't know why it did. It was just a great story and I related alot to it for reasons I have no idea why. It just was a well written story with such a great premise and story. The ending ended alittle abruptly but overall I really liked this novel. I now am a advocate for verse books and can not wait to read more of them. Go out and get this book and it will not disappoint and you will sure to love it too.


Let me know what your first verse book was? in the comments. And if it changed your perspective on books and if you love verse books now? Let me know if there are any verse books that you loved and think I should read, give me some recommendations in the comments, I need and want them. =]
-Michael/Bookshelf Reviewer