Hi everyone,
For those of you who don't know
"Waiting On" Wednesday
is an event hosted by Jill at
Breaking the Spine
. The purpose is to let others know which book you are anitcipating and can't wait til it comes out to read it.
Title: Inheritance by Christopher Paolini
Pub. Date: November 2011
Publisher: Random House Children's Books
Format: Hardcover , 800pp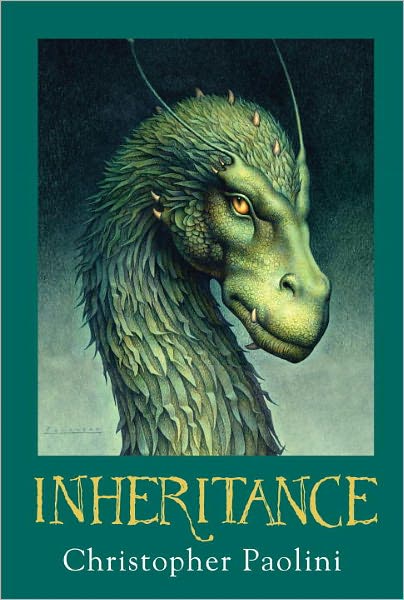 Not so very long ago, Eragon—Shadeslayer, Dragon Rider—was nothing more than a poor farm boy, and his dragon, Saphira, only a blue stone in the forest. Now the fate of an entire civilization rests on their shoulders.
Long months of training and battle have brought victories and hope, but they have also brought heartbreaking loss. And still, the real battle lies ahead: they must confront Galbatorix. When they do, they will have to be strong enough to defeat him. And if they cannot, no one can. There will be no second chances.
The Rider and his dragon have come further than anyone dared to hope. But can they topple the evil king and restore justice to Alagaësia? And if so, at what cost?
This is the much-anticipated, astonishing conclusion to the worldwide bestselling Inheritance cycle.
Links to Preorder/Check it out:
Barnes and Noble
Goodreads
This book comes out in 6 days. I really can't wait to read it. I want to find out what happens so badly. Anyone else waiting for this one? Let me know in the comments what you are waiting for. =]
Also don't forget to check out my
150 Follower Giveaway
, where I am giving away Eragon by Christopher Paolini and The Alchemyst by Michael Scott. =] Go enter it. =]
Til next time,
Happy Reading.
-Michael/Bookshelf Reviewer