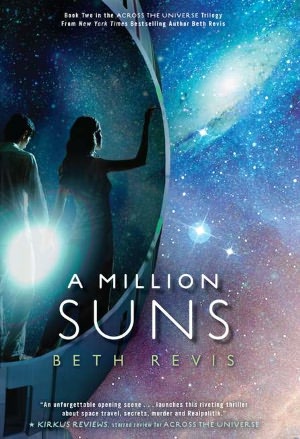 Publisher:
Penguin Young Readers Group
Publication date:
1/10/2012
Pages: 400
Synopsis:
Godspeed was fueled by lies. Now it is ruled by chaos.
It's been three months since Amy was unplugged. The life she always knew is over. And everywhere she looks, she sees the walls of the spaceship Godspeed. But there may just be hope: Elder has assumed leadership of the ship. He's finally free to enact his vision - no more Phydus, no more lies.
But when Elder discovers shocking news about the ship, he and Amy race to discover the truth behind life on Godspeed. They must work together to unlock a puzzle that was set in motion hundreds of years earlier, unable to fight the romance that's growing between them and the chaos that threatens to tear them apart.
In book two of the Across the Universe trilogy, New York Times bestselling author Beth Revis mesmerizes us again with a brilliantly crafted mystery filled with action, suspense, romance, and deep philosophical questions. And this time it all builds to one mind-bending conclusion: They have to get off this ship.
My Thoughts/Review:
I really needed this book. I didn't realize that all of the books that I have been reading this year so far up until this point haven't been that awesome compared to this book. I seriously am kicking myself in the butt for waiting so long to read it. I should have read it when it came out in January. I really can not believe how Beth Revis could create and write a book so spectacular in Across the Universe and then go back and make a sequel that tops that. Beth Revis is such a spectacular author. She weaves a story with her writing that is so detailed, unexpected and thrilling. I can not explain to you how amazing this book was. It completely skyrocketed and went beyond all of my expectations for it. I mean right from the beginning I was thrust into an awesome adventure and journey of a roller coaster ride that I had no clue which direction it would take me in. I had to of audibly gasped at least a million times throughout this whole book, that is literally how many twists and turns A Million Suns has.
Godspeed has many more lies and cover ups then even I was expecting. I thought everything was settled in the first book but I was totally wrong and wasn't expecting anything that happens. A Million Suns blew my mind. I didn't think this book series could get any more better and it has. The mystery and intrigue of the first book grows even more. The story is built on top of one lie after another and you would never expect the direction that this book has ended up in. My mind was literally turned upside down on its head from how awesome this book was. I can't say it enough.
I really loved all of the new characters that were introduced and the things that happen to them are astounding. You also get to learn more about other background characters that were introduced earlier. The intrigue and mystery is what really made me dive head first into this sequel. It kept up the pace and didn't disappoint at all.
If you haven't read this series it is seriously incredible and needs to be read. So far this is my favorite book of 2012. Every single time I wasn't reading this book I was thinking about it and was wishing that I was reading it. I read this book so fast I wanted to slow myself down so I could make the amazing experience last longer. The mystery is hyped up even more on Godspeed and it leads to chaos throughout the entire ship with Elder's leadership coming into question. Amy has a big choice to make and you will have to read the book to find out what that choice is. The whole ship is like a microcosm of Earth and gets thrown into disorder and has no clue what is in store for them.
A Million Suns ends in such an exciting adventurous way which impacts everyone on the ship. I can not wait to see how the journey continues and what happens to everyone on board the ship. I can't wait to see how Amy and Elder's relationship progresses some more and what is in store for the both of them. January 2013 can not come fast enough, I want to read Shades of Earth right now. Who else is with me?
Overall, I give this book:
| | |
| --- | --- |
| | Spectacular, adventurous and magical is what sums up this awesome book. I am so happy that I got the chance to read this book before it comes out in April. Hippocampus really takes you on an adventure that you don't want to leave once the book ends. As you read you learn about Trey Atlas and what happens to him thoughout his journey. You get to learn all about the lost city of Atlantis and all the wonders it has to hold. The one negative about this book was that I w |
Brillantly crafted mystery, that just keeps on giving. =]
5 out of 5 Stars
Links to Check it Out:
Thanks for Visiting and Happy Reading. =]
-Michael